The Fire: Our choices and decisions make us who we are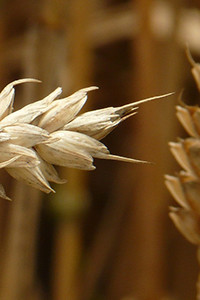 Prepared to die and be fruitful?
I was asking the Lord Sunday morning, "What do you want me to share today?" As usual, through prayer and the mostly subconscious nudges of the Holy Spirit, a persistent message developed (though it took me until this morning to finish it). I was reading Follete's book, Golden Grain, and he mentioned something I still regularly forget. Our position and joy in heaven will be the fulfillment of who we became here.
"People think that, when we die, God is going to give us all presents; that He is going around with a big clothes basket full of crowns and saying, 'Here's a crown…'  "Crowns are won! We earn them—they are not souvenirs." [Golden Grain, by John Wright Follette, published by Two Trees Ministry]
Crowns are symbolic of authority and responsibility, and they are earned here. They are earned by our choices and submissions we make here, in our daily lives. We are often asked to choose a path which requires our submission—which will almost kill us. The problem is that we don't allow it, we refuse to die (even though Paul clearly tells us to accept that we have died in Romans 6). Follette concludes:
"The trouble is we don't die. We say, 'It nearly killed me." It is supposed to kill us…so we will learn." [ibid.]
OK! Are you ready for that?
This is what Paul talked about: Present yourself as a living sacrifice, which is pleasing to God. This is your spiritual worship.
"I urge you therefore […] by the mercies of God, that you present your bodies as a living sacrifice, holy, and acceptable to God, which is your reasonable service of worship. Do not be conformed to this world, but be transformed by the renewing of your mind, that you may prove what is the good and acceptable and perfect will of God." Romans‬ ‭12:1-2‬ ‭MEV‬‬
These situations and the resulting decisions determine our character. Our lives refine us. They are the discipleship we need to grow into the person God designed us to be. The problem, of course, is that we forget our promised submission. Why? Because we don't talk with the Lord enough to learn what He wants to do. We live reactive lives, making emergency decisions because "we don't have any choice". We  forget this simple truth:
There is always enough time to make the Godly decision
Jesus never asks us to do something without providing the time to seek Him and talk out the options. He doesn't tell us what to do. He leads us through the possibilities and lets us make our choice. There is always a Godly choice in any circumstance. Very often it requires letting a fleshly desire or soulish yearning die.
So, what about the books you read or write?
Uhoh! Meddling again. If we are believers, we must be careful what we allow into our mind and spirit. We can't just watch anything we want, read anything we want, or write anything we want. In all cases, every day, we are expected to be in conversation with our Lord asking Him what to do next. When I read a book, it is appropriate to ask for wisdom and advice. "Do you want me to read this, Lord?" Or, "What do you want me to read?"
GIGO — Garbage In, Garbage Out still applies. If we belong to the Lord [and remember we voluntarily made Him our Lord because we love Him], then I need a clean soul [will, intellect, and emotion] listening to the Holy spirit within me at all times — so I can be fruitful. If I am feeding crap in, what can I expect to get out as a result?
If God has called me to write, am I certain he has really called me to write senseless, but entertaining, drivel? If I read what he wants me to read (and it is possible he has led you to read worldly entertainment), I need to ask Him, "Why?" "How does that apply to my writing or my life?"
Everything in our lives must be focused on knowing our King better and being fruitful by His grace.
If this applies to you, join the Ruach Battle Group in working for the Harvest by discipling our readers and each other. Presently, you'll get a free copy of Guy Stanton III's latest, Fallen Ambitions, for becoming a part of our work.
[wysija_form id="2″]
Please follow and like us: