We are not called to Christianize the world

Jesus didn't tell us to evangelize the world either
He said: "Therefore go and make disciples of all nations, baptizing…, and teaching them to observe all that I have commanded you." Matthew 28: 19 & 20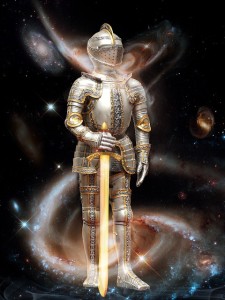 It's an important distinction—especially those of us who are writing and publishing books that go to nearly all nations. You all know my position, we are called to be holy warriors helping with the Final Harvest.
Once we have given ourselves to the Lord, frail though we are, we have given Him permission to make us into Ephesians 6 warriors. Our lives are no longer our own but His. We are knights, male and female, in the battle to save all we can, by His grace, in the service of our King. What a mighty King we serve! Alleluia!
So, what battles has He asked you to wage? Who are your readers and what are their needs? You're not called to tickle their lusts, but guide them to Truth. How can you reach those you're called to serve? Talk to the Lord about it.
Do I believe all authors are called to this?
No!
But I do believe all Christian authors should be asking the Lord if their writing is meant to be their ministry or their vocation. This means YOU! God does not call us for our own pleasure but for His purposes. It is true most of us get a lot of pleasure and satisfaction out of what we create. But that's a side effect, not the reason He has called us.
So, how do we make disciples?
By showing our readers the Truth about who we are and who He is. Can all of this be couched in allegory? Of course! We can be subtle. We're not called to be preachers [at least most of us aren't]. We're called to be witnesses of what we have seen and heard in our personal walk of faith.
I'm presently rereading the Chadash Chronicles. It's a real joy. David has contructed a very specualtive world, but his amazing creature characters show in their lives what David knows about the Lord. There's no preaching, no Bible thumping, just believers walking in faith in a solid evangelical fashion.
Guy Stanton does the same with his outrageous flights of fancy. His characters live out amazing life and death spirit-filled walks with the Lord. Again, there is little preaching or teaching. It simply shows us almost incredible people surviving great hurts and coming to wholeness in Jesus on this planet, out in space, or in another reality.
There are many new authors, called by God to express their faith in strong speculative fiction. God is using the tools of the world to disciple the nations, and we are part of that.
If you want to join the battle for Man's souls, sign up for the Ruach Battle Group newsletter at the bottom of the page. Or simply join in the conversation at Reality Calling. Vote below to help us learn your concerns.
[yasr_visitor_multiset setid=1]