Christian science fiction: The Coder & The Fixer by Celesta Thiessen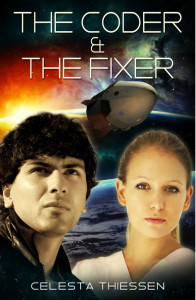 It's a limited world, a couple of space ships. But the society is well-crafted, the characters are developed nicely, and the story is compelling.
Every book I read by Celesta is better than the last. She's become an author I watch so I don't miss her latest.
[yasr_overall_rating size="large"]
The spiritual level is somewhere between 4- & 5-star and satisfying.
I refuse to spoil anything, but there are surprises, praises, and compelling suspense. Plus, it has a romance reminiscent of Guy's books.
You'll like it—I did.
[yasr_visitor_multiset setid=0]