Christian speculative fiction: The Elevator by JC Huggins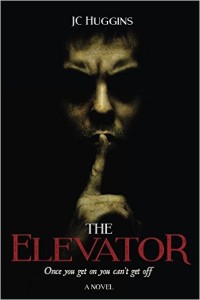 It's a compelling, quick read. Many will find it eye-opening. Some will discover that its life-changing message strikes home. I recommend it, if it appeals to you at all. It's a graphic examination of the consequences of sin in the life of the sinner and the lives of the people with whom he's involved.
[yasr_overall_rating size="large"]
It's not a pretty picture.
Sin never is.
Scott Turner lived in the fast lane; a very self-centered fast lane. So self-centered that betraying his best friend, Cliff Hughes, was just another day at the office.

All was going well for Scott, who was a successful lawyer in Dallas, until one fateful day when he stepped onto an elevator; an elevator that took him on the ride of his life. With the help of a guide who was sent to torment him, Scott revisited major decisions that he had made and realized how they affected everyone around him.

Through a guided tour on an elevator, Scott quickly realizes that even though he may have forgotten his past, his past didn't forget him. He is forced to bear the full weight of his life choices in this bone chilling and heart-wrenching supernatural thriller by JC Huggins.

Scott needs redemption but can he find it on this elevator ride from hell? Is it too late for Scott to change his destination? Can he repair the relationship with Cliff and so many others before it is too late? Can he get off of the elevator before it arrives at the final destination?
Thankfully, I've never been personally involved with too many men or women like Scott, but I am very familiar with the destruction and pain which follow in their wakes. The world is full of people like this. I've had to deal with some of it in my life—both as a result of things I have done and in dealing with the damage caused to me by others.
Scott is a man who will do anything to further his career and deal with his reactions to what he thinks is going on in his life. It all comes to a head one day when he takes a step too far. He is brought through a very rough ride as he reviews major decisions in his life and discovers their true worth and meaning. The reader is brought into self-examination as he or she reads about Scott's ride on the elevator. Like I mentioned, it's a compelling read—I couldn't put it down.
Spiritually, it's a 3.5 star ride
It's more than you would find in a purely religious book, but it's not doctrinally redemptive. As far as I can tell, it leads the reader to the goal Mr. Huggins desires. However, it is much more focused on church than Jesus. The Holy Spirit has little or no part in all of this. I was hoping for worship and praise. All I found was release and relief. As I said, I ranked it 3.5 stars. The evil is barely 3-star. There is no realistic spiritual warfare.
I am not sorry that the Lord saw to it that I got the book. Mr. Huggins gave me a free copy to review. I'm glad I read it. I suspect you will be also.
[yasr_visitor_multiset setid=0]