Christian mid-school fantasy: Of Secrets and Sorcery (A Prince of Lynvia Book 1) by Chris Solaas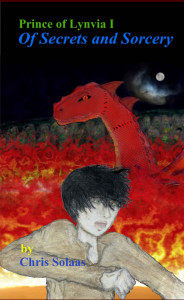 This book is obviously targeted at early teens and pre-teens, but I enjoyed them a lot at 72 years old. Though the children make mistakes appropriate to their age, they are all surprisingly mature and complex. The adults are quite fallible also. The world building is left at enough to suspend disbelief, but not enough to enthrall the diehard world builder fanatic (you know who you are). The worlds are both believable and satisfying.
[yasr_overall_rating size="large"]
This is fun fantasy
From my point of view, the hero is an amazing kid. I suspect this is true for those of his age group also. The developments into royalty, magic, and superheroes are handled with relative ease. The dragons are cool.
The Blurb
Middle School is the least of Kyne Goodrum's problems.
That is, it would be if he could take his dragon along.

When Kyne moves to a sleepy little town in Tennessee, he has no
idea the house his family is moving into is 'haunted'. He begins having
dreams of a world where dragons live, where magic really works, and
for some inexplicable reason, everyone he meets is trying to kill him!

He spends each day dealing with bullies and burned-out teachers, and
each night running for his life. When's a guy gonna get some sleep?
His only friend is a sarcastic dragon who seems to know much more than he's saying.

Wounds that Kyne receives in his dreams last into his waking world,
and he begins to wonder which world is real… Or are they both?
Spiritually, it's 2.99-star
Though it's obviously meant as Christian, Jesus or a savior is never mentioned. On the other hand, there is no spiritual evil, at all. Nevertheless, in the context of the story, it's a faith-filled story by a few characters, on a religious level. The bad guys are your common everyday greedy, power-hungry sinners. But they are also appropriate for the audience and quite nasty.
The evil regent basically destroys the magic world. While it's appalling, it's believable, explained well, and there is hope for a far better future.
It is nice, clean, and it should be. It was an enjoyable read, and the bad guys were quite convincing.
Chris gave me a copy to review with no stipulations. The cover was done by his children and they are very enthusiastic about the book according to Chris.
[yasr_visitor_multiset setid=0]