Spirit-filled thriller Face to Face by Russ Scalzo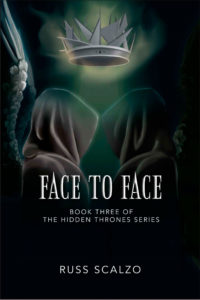 Book Three in the Hidden Thrones Series is the Spirit-filled thriller Face to Face. Russ Scalzo has continued his story in fine fashion as it builds into what will surely be an exciting conclusion. Book four is due in February, but I have no clue whether this will finish off the series.
This story is a direct continuation of Hidden Thrones and Open Warfare. The characters are remarkably personable and believable. Demons, on the other hand, are a bit cartoonish—though this is hardly a negative in this age's entertainment industry. In addition, what can we expect when depicting someone [something ?] so evil he's [it's ?] almost beyond comprehension. Russ wrote strong depictions of these fallen creatures. So, the reality is probably much more fearsome. But, this story still rings true somehow.
[yasr_overall_rating size="large"]
This tale offers a palpable reality which is spiritually gratifying. I don't need to tell you how rare this is. We don't know how realistic it is because there is so much we do not understand about the hidden angel/demon warfare which swirls around us constantly. But it feels as close to accurate as any spirit-filled fiction I've read.
Don't get me wrong! This is fun entertainment. Russ inserts the spiritual truths into a world fully compatible with what we have come to expect from any stirring FBI, Mossad, political thriller. If the scenario is a bit over the top, the story delivers our expectations with neat twist and complications.
When Russ gifted me with a review copy [with no restrictions] out of the blue, I dove into the book with relief. As you know, we rarely see spiritual truth in our entertainment—especially full-blown spirit-filled adventure.
This Spirit-filled thriller Face to Face deserves an award of excellence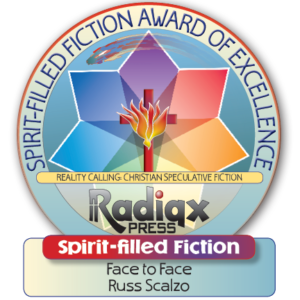 I am pleased to be able to give this award again. Books of this level are so rare. You can ruin a tale like this with too much doctrinal dissection. However, given the type of story, Face to Face delivers Truth naturally without much pomposity. A Messianic Mossad agent is surely fun. An FBI agent tasked with unexplicable events is also a joy.
Russ Scalzo has again delivered outstanding reading entertainment. It does not reach the over the top fantasy of Guy Stanton. But, it's not meant to do that. This is fun spiritual entertainment with more than a touch of Truth. You'll love the series and so will your teenagers.
[yasr_visitor_multiset setid=0]