The Emerald Enigma Space Drifters falls short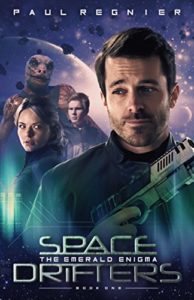 The Emerald Enigma Space Drifters falls short for me. A dextrous bit of entertainment fluff, I always expect much more from Enclave publishing. The tradepub blanket smothers the truth—again.
I read a space opera parody, I think. I think many find it funny. But it was unnecessarily confusing—or so I tell myself. The characters were mainly obnoxious, and that's a lot of my problem.
[yasr_overall_rating size="large"]
The Emerald Enigma Space Drifters book 1 left me cold
I want to insert a comment here
After I posted this review, I had a very good email conversation with Paul. I was impressed with his heart and attitude. So, even though what I say in the rest of the review is true, please temper it with the fact that Paul is an exceptional author with hope for a great future. I will continue to pray for him.
On with the original review
There's no content. It's all parody and no reality. It's all cynical and no truth. I know these are overstatements and the reviews are good. But, it's three days later and I cannot remember any of the plot without rereading stuff. Clearly, I experienced no memorable book here.
It's so bad that the sentence, "The only believing character is a time-traveling teenage boy." was placed into a different book review—also from an Enclave author and equally unmemorable. I had to go pull it out of there to put it here where it belongs.
Spiritually, I gave this book a 1.5 rating. This is not Christian fiction. As entertainment I imagine many will like it. But that's no longer enough for me. Book 2 looks like a rehash of the Hunger Games—maybe.
[yasr_visitor_multiset setid=0]