Knowing God seems too simple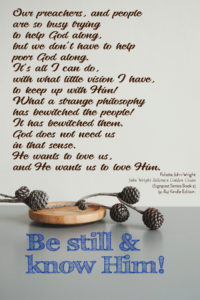 Just knowing God seems too simple — but it's the core of the Gospel. My new fantasy focuses on the Known. Our culture sees the Known as fantasy—hated without reason, and a threat to our way of life. What fools the people of the world are!
The church is normally too busy to know Him. The world is too offended by Him to have a clue what He is like. To Know Him is to love Him. That's why He created us.
Just knowing God seems too simple
"If the world hates you, you know that it hated Me before it hated you.If you were of the world, the world would love you as its own. But because you are not of the world, since I chose you out of the world, the world therefore hates you. Remember the word that I said to you: 'A servant is not greater than his master.' If they persecuted Me, they will also persecute you. If they kept My words, they will keep yours also. But all these things they will do to you for My name's sake, because they do not know Him who sent Me. John 15: 18-21 MEV
In my new fantasy, Staff of Light, the Known are being persecuted and executed by the Church. The world doesn't even realize they exist. Those seeking power only deal with the king or the church. Even the warlocks and sorcerers are only subverting the king and attacking the church. They have no idea where true Power lies. When they hear the Truth, they respond with hatred and fear. Which side are you on?
Joen receives a prophecy that he is to be King of Ferellon—how can that be? He's just a teenage artist, designer, and calligrapher. Raqhel, the Princess of Ferrelär, is second in line for royal power. She's hiding in the library at the palace trying to escape courtly living. But really, she's running for her life—though it takes many traumas for that simple truth to be understood by her mind. They haven't a clue they are to work together.
A fantasy world about modern living — what fun!