An exciting catholic urban fantasy by Brian Shotton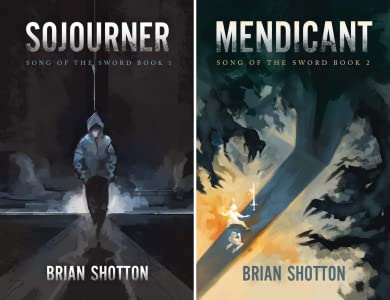 An exciting catholic urban fantasy by Brian Shotton presents spiritual warfare as over the top superhero entertainment. One of the refreshing things about catholic fiction are the larger than life heroes and heroines. They often inspire through their seemingly superhuman adventures. This 2-book series fits the stereotype, and it's done well.
However, it's sad to see the really outrageous Nephilim speculation. An offspring made it through the flood [right. How'd that happen?] and is basically immortal [Sure]. Of course, she's a sexual goddess [but nothing really happened]. This kind of stuff, plus demons who are much more powerful than they are in reality, took it from a five to about a 3.6 in spiritual content and in the plot.
Normal spirit-filled Christians would simply shut all this stuff down without any fuss
That's my basic response. Granted, the hero is deeply damaged and has flawed responses. He does give himself to the Lord completely—but his past experiences nearly derail him. He would have done better if one of the hinted relationships had developed. A good woman would have been a great help. They are in the book, but painfully.
Both Sojourner and Mendicant are intense reads, and quite entertaining. But it's all so far outside Biblical reality that it feels almost like a worldly, graphic novel. My entire walk with the Lord has been involved with spiritual warfare and eliminating enemy threats. The Lord's authority and the Holy Spirit's power made most of it into simply a normal portion of prayer. The Lord really does have all of this covered for all believers. It only takes faith, trust, and awareness of the authority you are given as a child of God.
[yasr_visitor_multiset setid=0]
This exciting catholic urban fantasy remains basically entertainment
All the teaching comes from clergy, monastics, and academics. It remains sad that this is still the norm for most. Evidently, the truth of 1 John 2:27 never reaches the people. That was one of the major blockages we wrestled with as in-pew missionaries. Why would a believer have a great testimony if he or she believes that power is simply not available to them?
The other quibble reveals itself in the beatings and physical damage suffered by the laity. I realize that this stuff happens. But it is not a common way of life for a believer. And physical damage can't come from demons. They're spirits, and only the people [and maybeanimals] they possess can do that kind of damage. It doesn't fit into life more abundantly very well. Jesus equips all of us for spiritual warfare—at any level. All we need need is faith and a direct, personal relationship with our Messiah [Christ].
I would label this as for adults only. But that's really not true. Readers do need a spiritual maturity or the leadership of a more mature believer to answer all the questions. Often, the answer will be simply, "No, it's not biblical."
Please follow and like us: