Christian book review: The Last Toqeph, Book 4 in The Gateway to Gannah series by Yvonne Anderson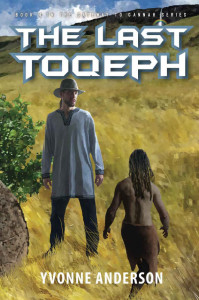 Yvonne believes this is the best book she's written so far. I'm not sure I agree. But that's probably because of two reasons—strictly personal. First, I loved the first three books. Second, I really want to read book five, which she says is not coming. I pray the Lord changes her mind.
This planet will challenge you
This series depicts a society on a distant planet which is focused on the Lord with strict discipline and radical obedience. Those two concepts are nearly anathema to modern day Americans. Is it completely Biblical? No, it's fiction. Several of the interactions go far beyond what my wife and I practice in our marriage.
But then that's true for many issues because my wife is called to be a pastor and I'm not. I'm head of the household. She's head of the church. No problem, right? Well you cannot imagine the problems with the reactions of many so-called Christians. On my better days, I simply tell them to read Galatians 3:28 and move on.
This series will challenge more than that—in a good way. Yes, Yvonne takes headship/submission and the rearing of children to its limit. But she doesn't cross the line into the anti-Biblical or non-Christian. The love and spiritual truth of the relationships cannot be avoided. It's a compelling book. Not so much as a guide to how we should live, but as  reminder of how creative the Lord is and can be with His people and their relationships. If this society existed on Earth, I'd move there in a heartbeat. But it couldn't exist here.
It's uniquely Gannahan, and that's a good thing. It needs the remoteness of a backwater planet in almost complete isolation. And then there's the fact that this planet can kill you in a heartbeat with plants and animals which are a delight, though often very dangerous. The animals can communicate with humans and have entered a covenant with them. But only Gannahans have the gland which enables that—and distant communication with each other.
The people are wonderful
These are people I wish I knew. Actually, because I feel like I do know them, this book four is quite sad for me. People move on, move out, finish their work, and bring this Gateway series to a close. But there are so many hints of the future, potential conflicts, budding romances, galactic evangelism, growth, excitement, joy, and I want more. The principle characters are men, and women of wisdom, compassion, and love. They have compelling children. The secondary people are just as intriguing. We simply do not get the opportunity to know them so well. The enemies are evil, yet often come to salvation. You really need to read this whole series.
I certainly do not want to spoil it for you. But READ IT!
Related articles
Please follow and like us: