Christian fantasy tradepub review: The Shock of Night by Patrick W. Carr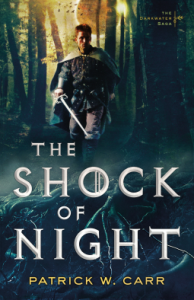 I'm almost sorry I have to review this as Christian fiction. I mean Bethany says it is. He's represented by Steve Laube. Of course it's Christian. Right?
The book is entertaining, brilliant, creative, and very well written. It's a professional production (though the map seems to be an afterthought). In all ways, I should be excited to share a book I highly recommend. It is a shock—of night.
A Modern Traditionally Published Fantasy Thriller
[yasr_overall_rating size="large"]
Really, I could leave the review right here. You should be clear in your head what this book is.
Entertaining
Dark & horrific
Depressing
Clean
Of course, what does that offer the Kingdom of God? Nothing.
As has become common with tradepub releases recently, the free ebook intro, By Divine Right, is a far better tale than what this book offers—the first one in the new Darkwater Saga series. Much of the worldbuilding is found in the free novella. The Shock of Night actually assumes that you have read the prequel. Without that as a background, this first book in the series will be quite confusing
As with all of Patrick's books that I've read (all of them as far as I know), the characters are very complex, the social interactions are witty, the culture is full of intrigue, the twists come quickly and often, and all the pieces of a wonderful book are there.
In fact, I expected the wonder and joy I found in A Cast of Stones. That was one of the most enjoyable books I've ever read. By Divine Right was the same type of book: exciting, hopeful, this expectation of a wonderful romantic relationship. But as I was brought down by books 2 & 3 in The Staff & the Sword series, The Shock of Night did the same. In fact, it is more disappointing.
What's missing?
Most of the things I look for in fantasy like hope, exaltation, spiritual truth, and a happy ending are simply not there. What's worse is that the book constantly puts those hopes in front of us, only to dash them later in the book. In some ways this is a horror book, but it's not really scary because there is no spiritual reality here.
The true horror is that a series like this has the potential of being A Game of Thrones-level hit—oh wait! No graphic sex or gore. I guess that makes it inspirational and a Hallmark channel blockbuster. Nope, too dark. Maybe the SciFi channel?
Here's a spiritual level of 0.2 stars
There is no spiritual reality in this book at all. The characters are constantly offering vague prayers to a god unknown, or exclaiming "O God!" using the name for God which Patrick invented. But even this has the feel of being added under duress because it's a Steve Laube/Bethany production.
However, the world created is wonderfully inventive and clever. It's all about spiritual gifts given by a God who is presented as knowing what he or she is doing (I think. But even the characters who use the gifts have no real idea why they have them or if god can be trusted). These are gifts which become talents usable by the characters on demand. Most of them are things like musical ability, amazing swordsmanship, fantastic craftsmanship, fashion design, dancing, kingship, and so on. They're given to women and men alike (I think, but that's only explored, a little, in the prequel). There is none of the reality of charisms given through a character for the building up of the Kingdom, and they have nothing to do with a Holy Spirit.
God does not interact with this world. There is some sort of hinted savior, but I can't really tell you who (or even if this savior appeared earlier or he or she is coming in the future). There is no Holy Spirit, at all. This book does not exist on the spiritual level. This is worldly entertainment. It will probably sell very well.
I got a free review copy from Bethany. I glad I did. I'm not sorry I read the book, but it is so disappointing. In a few words, here's the review title:
Entertaining, but no redeeming merit
[yasr_visitor_multiset setid=0]
Related articles