Christian fantasy: Songkeeper, book 2 of the Songkeeper Chronicles by Gillian Bronte Adams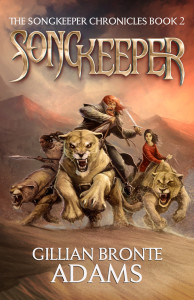 What a ride! Like many second books, this one left me battered and depressed. I do get tired of that. In Christian fiction, I don't feel like I need to feel I just watched the evening news—but really it wasn't that bad.
The characters drive this books, and they are well done. But I keep coming back to the world built. What a horrible place to live! Yet it's not too different from where we do live. The creep grows ever more ascendent in our world. The spiritual Truth of the Creator of Life seems relegated to the dustbins of history. Yet I know that's not true, and my hope is that it is not true also for Birdie's world.
[yasr_overall_rating size="large"]
But it's painful to walk or read through a world like this.
Spiritually, it's 1-star with hope
There's no savior, no redemption, no freedom of the spirit. God's a distant faint hope, if anything at all.
But I rated it almost a four-star read. Why? The characters are good. The action is almost constant. The betrayals and evil are massive. The escape into a different reality is always fun. Everything's here for a great book, but I feel so bruised…
Thanks to Enclave for a review copy and no restrictions. I am looking forward to book three.
[yasr_visitor_multiset setid=0]
Please follow and like us: