Spirit-Filled fiction award: The Proverbial War by Guy Stanton III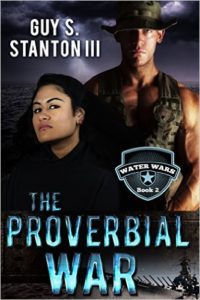 Well, I had to reread the next one also: Book Two in the Water Wars Series. It's also as good as I remember it. You need to realize what Guy has done with his spirit-filled stories. He puts despicable, damaged, and hurt people in impossible situations and shows how God turns it into good with new, committed, forgiven, empowered believers. Tell me the last time you read a book like that!
[yasr_overall_rating size="large"]
Kim and Colt are marvelous characters: complex, hurting, exhilarating, and then Jesus steps in. The world beneath, which Guy creates, is marvelously complex with marvels aplenty. The bad guys are despicable—yet understandable.
Everyone has a chance to be redeemed—or not.
Spirit-filled fiction will blow your mind with the goodness of God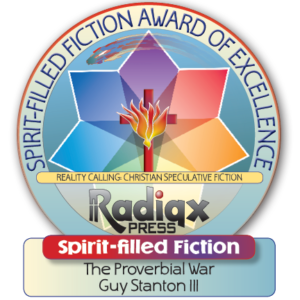 The award of excellence for a story of this calibre is necessary. This is that truly rare book—spirit-filled fiction with power. What a treat it is!
This is a book with the potential to change lives. It's presented without preaching. There's no bible-bashing. This flows like it came from the mouth of God with minimal interference from the mind of the author.
This the way it should be. Christianity is not about religion, but about a relationship with our Lord—largely through the indwelling Spirit of God. This is the same Holy Spirit, as the one who helps with the creation of the universe, living inside the believer.
This results in transformed lives—both of the believer, and in the lives of the people he or she touches. It's a glorious thing to watch. You'll love this book. This is true even though it is clear that Guy is still learning his craft as writer. He's put out twenty-two books since November of 2013. They've all been amazing. Pray for our brother because the Creep certainly is not pleased.
If you want to start it out right, read the Warrior Kind series. It's his first and still best. It's in the running for series of the decade.
[yasr_visitor_multiset setid=0]