The Reign Series offers speculative refreshment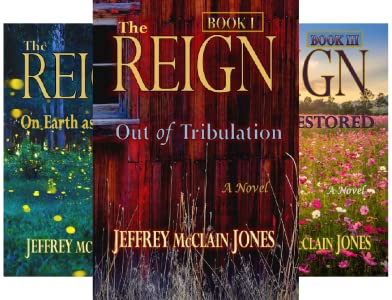 The Reign Series offers speculative refreshment in a world gone mad. As we bring the end of the church age to a close, a simple breath of fresh air seems like a life raft on a stormy sea. Here's a series which offers this, and hope, at this point in the birth pangs.
Here we see modern Christian Urban Fantasy in power
This is not a theological, doctrinal masterwork. Jeffrey McClain Jones has carved out a marvelous place in speculative fiction. He writes, in the real world, present day, things we wish would happen. He accomplishes what he hopes to acheive. Here's his bio from Amazon:
"When I begin a story, it's usually with a "what if." What if I could be there on a day when Jesus healed a whole multitude of people? What would it be like for Jesus to be visible and audible beside me today? What will it look like for Jesus to reign on the Earth? This is why I've identified somewhat with the genre known as "speculative fiction." It's not science fiction, because the context and the characters are all realistic, in my world view. It's not fantasy for lack of wizards, swords and unicorns. But it is a stretch beyond what most of us normally see and hear in our daily lives."
The Reign Series offers speculative refreshment — a fresh look at reality
You know my take on writing the reality of Christian living as fantasy. I believe it is fantasy for almost everyone these days—even for the majority of Christians. Jeffrey's six-book Seeing Jesus series demonstrates this in a wonderful manner. This is urban fantasy to an extreme—without magic, orcs, dwarves, fairies, elves, dragons, or any of the rest of the genre. I always find myself immersed in a wonderful world of reality—the way I wish it were.
The Reign Series take speculation into the future
Here is a wonderful series of tales with compelling characters, a believable world-build, and spiritual capabilities beyond our fondest dreams [unless you're crazy, like me]. Telepathy, telekinesis, teleportation, flight, superhuman strength, and more are believable portions of mankind's experience in this speculative look at the Millennium.
I could quibble about doctrinal issues, but that would destroy the joy I experienced. These books all contain Truth—portions of truth. Jesus feels very close. I was edified—and you know how rare that is in modern fiction. You'll love the books. If you let your children read it, wonderful conversations about Christian living and the coming snatching up of the church should flow naturally out of reading these books.